subTerreanean
numbered, limited edition of 200

subTerreanean is a community poetry/art project that originated at the monthly open poetry readings at Coffee Grounds in Terre Haute, IN. It was timed to be completed April 2010 to celebrate National Poetry Month.

Twenty-two local artists and poets each created their own page and made 200 copies. Big Picture offered a special price for copying to participants. Covers were designed by Sasha Krasutsky & Myke Flaherty of The Mill. All pages were turned over to the Third Thursday Poetry Asylum team which commandeered the tables at ArtReach (the free community art-making space in downtown Terre Haute) and spent a weekend collating, stapling and numbering each copy.

We like to think of subTerreanean as our open-mic-in-a-book, as a DIT (Did-It-Themselves) project filled with the creative energy and heart of more than two dozen people in our community.

Sarah Long & Zann Carter, Groundskeepers
Third Thursday Poetry Asylum

The first 100 copies went to contributors and 50 were sold at the April 15th reading to cover costs & provide seed money for a future project.
All profits from the sale of the remaining 50 copies will go to Doctors Without Borders
As of 7/4/2010, We have raised almost $200 for Doctors Without Borders.
Copies are $10 and are available at:
Book Nation
677 Wabash Avenue
Terre Haute, IN 47807
email: zanncarter@gmail.com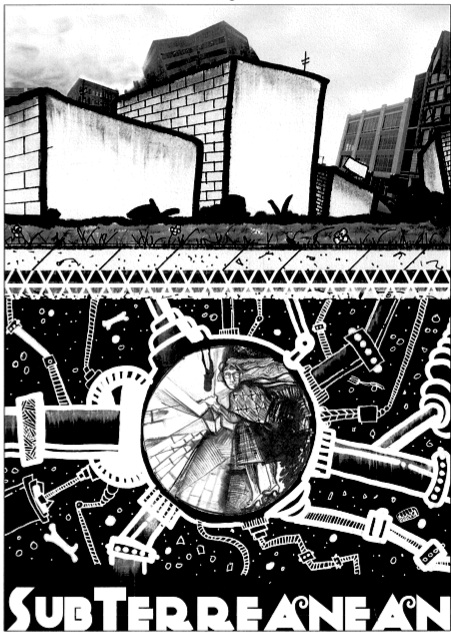 subTerreanean - available as a free pdf
(Note: this is a BIG file, about 10mb
and it's a little rough - we'll try to improve on this.)